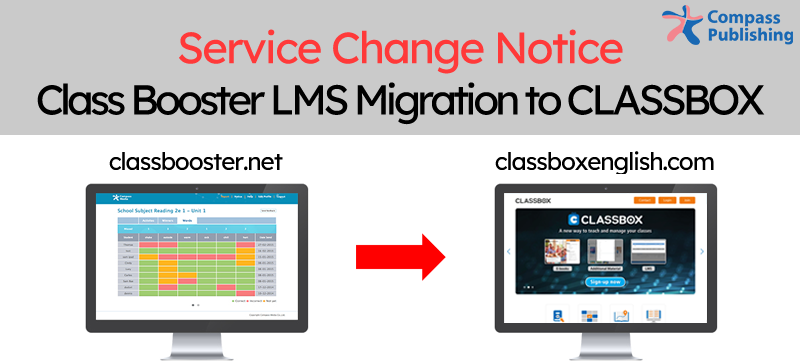 Out with the old, in with the new!
We are making significant improvements and updates to the service levels of Class Booster!
Here is what you need to know:
Class Booster is being integrated into CLASSBOX and BIGBOX services. CLASSBOX and BIGBOX can be connected to provide the same functions as the current Class Booster service.
CLASSBOX is for TEACHERS:
• Classbooster.net reports will still be accessible through CLASSBOX, under a new format. Just link your CLASSBOX account to your Class Booster account to gain access.
• Teachers can join CLASSBOX (www.classboxenglish.com) in order to manage their classes, access digital courses, download materials, and take part in our teacher's community with online training!
• Access for the LMS on CLASSBOX is free, those using materials from Compass Publishing, can also get an access code from their local seller in order to access the other new features such as streaming e-book, and downloadable supplemental materials; such as worksheets, tests, and more.
• Students can download the BIGBOX app which is the new home for all of Class Booster's learning content in one single place!
• After installing the app, students can find every Class Booster course in the "Class Booster" section of BIGBOX!
• Access for Class Booster on BIGBOX is still free, student's just input the unique access code at the back of the book for their course.
• The BIGBOX app can be downloaded on PC, and iOS and android devices.
• Link your BIGBOX account to your teacher's class on CLASSBOX to keep using Class Booster LMS functions.
Scan the QR to download BIGBOX:

Teacher's Class Kit also will be provided through CLASSBOX, in the same way as it was provided on compasspub.com. Just input the serial code received, and you will unlock book contents. To do that, you will have to sign-up, click "activate", and enter your serial code.
• CLASSBOX and BIGBOX are now live, so join today!
• From June 30, 2020, all Class Booster online learning apps will be removed from the app store.
• Class Booster (PC / mobile apps) downloaded before June 2020 can be used on the device as it is; however, service updates will not be issued.
• The teacher's portal on Class Booster's LMS (www.classbooster.net) will be supported until June 30, 2020. After that, users are strongly recommneded to link their account to CLASSBOX to enjoy a more stable and complete service.
*Classbooster.net will still be accessible until December 2020.
2. If you are new to CLASSBOX and came from the e-mail sent to you:<Sign-up Now>
Then, click "My page" and link your classbooster.net account.
3. If you already are a CLASSBOX member, click "my page" and link your classbooster.net account.